Cable Subscriber Billing & Management
Aplomb sets a new point of reference for Cable billing and subscriber management solution. Paytv SMS Standard - useful software solution for Cable Operator in managing the day to day accounting, billing, payment, credit, debit, subscriber alerts etc.
Cable Accounting is tedious work and required lots of man hours for payment analysis, and time to time customer alert for that. cable tv billing software for subscriber with different package and channel and plan difficult to maintain manually, or on CARD, so here is latest solution to make all task easy, accurate and fast on Single Click !!!
As yet battling with excel spreadsheets?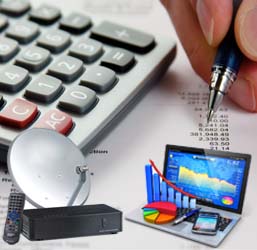 Cable Billing / Accounting Software
Manage Billing on single click of All customer with dynamic tax calculation with all Accounting effects
Analog OR Digital
Manage Both Analog & Digital Customer on Single Application, also you can migrate Analog to Digital Customer at any times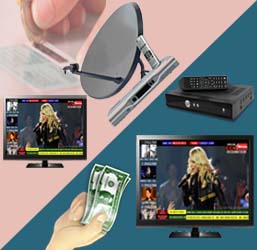 Pre-Paid OR Post-Paid Connection Management
Manage Pre-Paid & Post-Paid Customers on Same Application, Bill will Generate based on customer types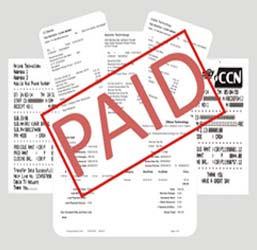 Design Customize Receipt
Customizable Receipt Printing format based on you need at your end
Cable Operator Billing Software
Subscriber Billing solution for Small Cable Network, LCO.

Maintains Record of Subscriber Application Form (CAF/SAF) Information

Prepaid / Postpaid Subscriber Management

Maintains Subscriber Wise STB and VC Serial No.

Maintains VC Wise Multiple Packages

Capable of individually addressing subscribers, on a channel by channel and STB by STB basic.

Dynamic creation of Packages And Facility of E-la Carte

Generate Subscriber Outstanding Receivable/Payable And Ledger Report

Quick Information of Subscriber's Finance history

Single Subscriber With Multiple STB Maintain With Difference Packages
Handheld Device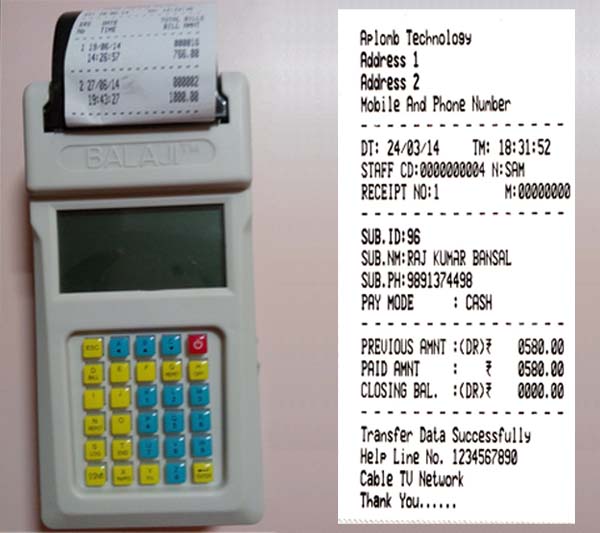 Handheld Device or Collection machine is best solution for door to door payment collection with Receipt Printing and Live and offline Software Account Effects.
Unique User Rights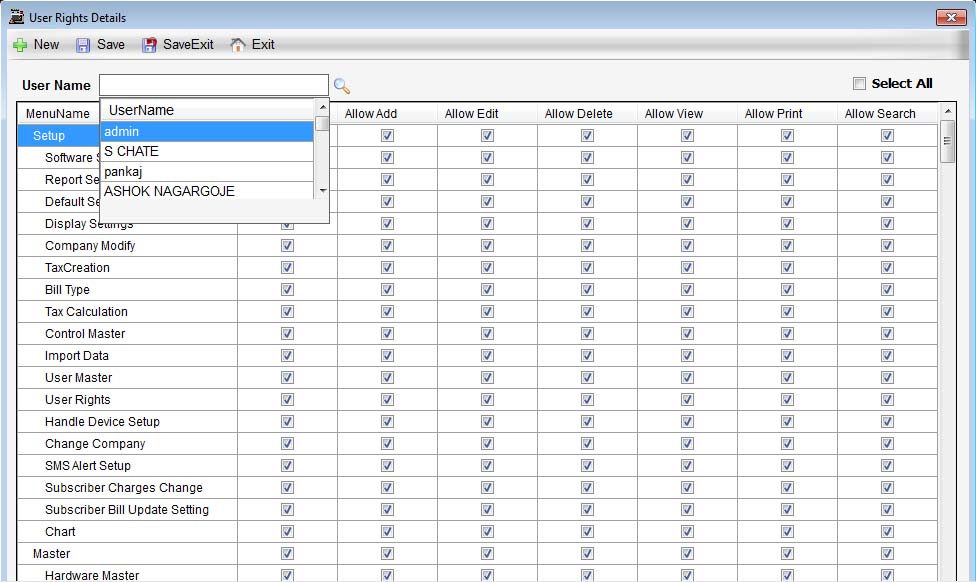 Able to Manage Roles & User Roles Privileges based on Operation Add, Edit, delete, View and Print.
Subscriber Billing Software
All Day-to-Day operation including...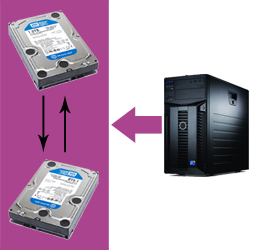 Auto Data Backup
at Multiple Location
System will take database backup automatically , so there is no risk of data lost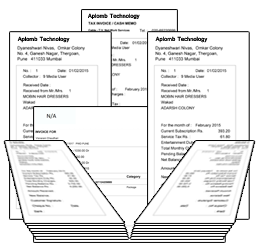 Process Bulk Receipt
Able to printing bulk receipt based on particular criteria instead of tedious task of single receipt printing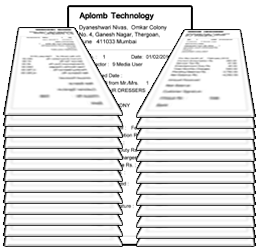 Process Bulk Bill
Same like printing bulk receipt you can also print bulk Billing as single click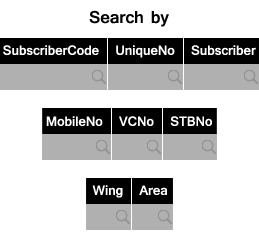 Search & Track
Easy Fast Accurate
Search from various information at the same time Like STB , VC Card, Subscriber Mobile Number etc.
Available MIS Reports
Subscriber Summary Ledger

Subscriber Detailed Ledger

OutStanding Receive

OutStanding Collection

Closed Connection Rest Balance

Bill Register

Bill PendingList

Bill Modified Log

Franchisee Wise Total Pendings

Year Wise Subscriber Receipt

Subscriber Wise Receipts

Collection Person Wise Collection

MonthWise Total Connection

ChannelWise Custmer List

Listof Available Package

Package/Channel Wise Subscriber

Subscriber Wise Hardware Detail

Summary Report

Multiple Receipt Printing

Multiple Payment Printing

SubscriberWise Bill Receipt

Subscriber Documet Report

ChannelWise Subscriber List

SubscriberWise Package Detail

Proof Hardware Allocate to Subscriber

Subscriberwise Monthly Collection

PackageWise No. Of Channel

Subscriber Wise Ledger

Subscriber Wise Card

Tax Register

Deposite Register
Operating System Supported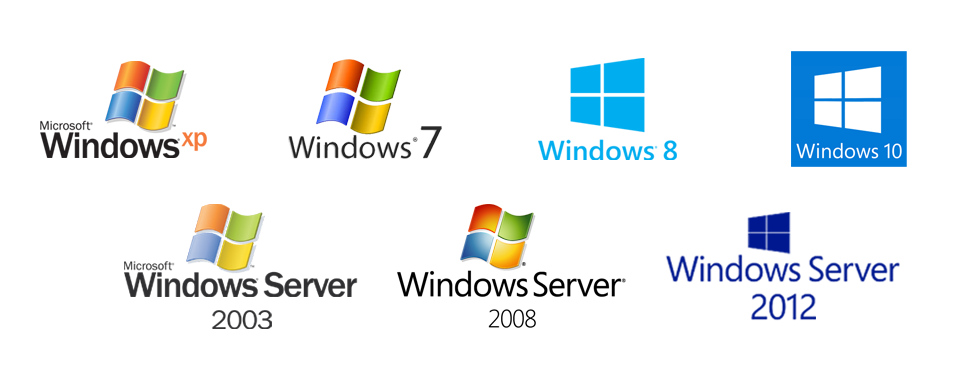 Lan Version Available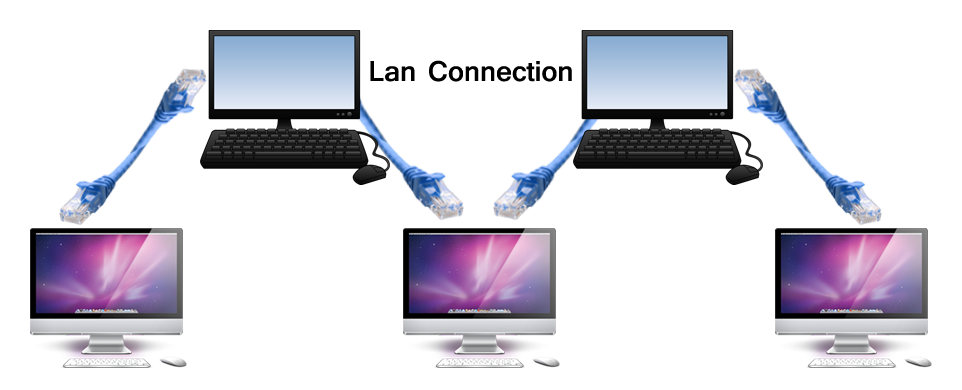 Support Mobile SMS For varoius tasks:
Send SMS From Netsetter - SIM
Send SMS From Webbase SMS Gateway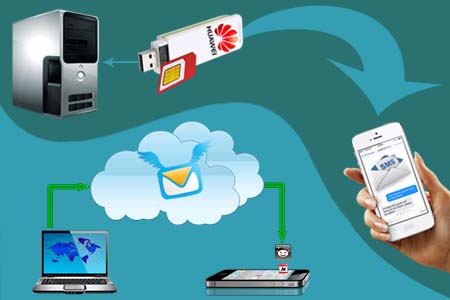 Export Reports to:

Examples of sms Templates

As given below you can set different types of sms templates for customer alerts you can design & edit text of sms templates.

| Type | Template |
| --- | --- |
| Subscriber Register | Dear Subscriber "CustomerName", You are Successfully Registered. Your ID is:"CustomerCode" Opening Balance is : "OpnBalance" Thanks |
| Bill Create | Dear Subscriber "CustomerName", Your bill is overdue by "BillAmt". Your BillNo is "BillNo" and Date is:"BillingDate" Your Balance is : "Balance". Kindly pay before: "PaymentDueDate" Thanks |
| Receipt Create | Dear Subscriber "CustomerName", your ReceiptNo is:"VoucherNo" Dated On "VoucherDate" of Rs. "Amount" , Payment is received . Now your Balance is : "Balance". Thanks |
| Balance Inquery | Dear Subscriber "CustomerName", Your Customer id is "CustomerCode" Your balance on date "Date" is Rs."Balance" |
| Last Bill | Dear Subscriber "CustomerName" Your last bill no. is "BillNo" dated on "BillDate" of amount "BillAmount". Your current balance is "Balance". Thanks |
| Last Receipt | Dear Subscriber "CustomerName" Your last receipt was on "VoucherDate" of Amount "Amount" and Receipt no. is "VoucherNo". Your current balance is "Balance". Thanks |
| Close Connection | Dear Subscriber "CustomerName" Your Connection is Close on Dated "Date" and Reason is "Reason" Thanks |
| Package Active | Dear Subscriber "CustomerName" Your Package "PackageName" has been Activated on Card "CardNo" , Date is "ActiveDate" Thanks |
| Package Deactive | Dear Subscriber "CustomerName", Your Package "PackageName" has been deactivated on Card "CardNo", Date is "DeActiveDate" Thanks |
| Outstanding Balance | Dear Subscriber "CustomerName" Your OutStanding Balance is : "ClosingBalance" |